Pet Transport to the USA
Over the years, we have had many happy customers use Aero Pets to transport their pets to the USA. Our experienced, certified staff will make moving your pet to the United States a smooth process. Please read what some of our happy customers have said!
Free Quote Form Phone or Email Us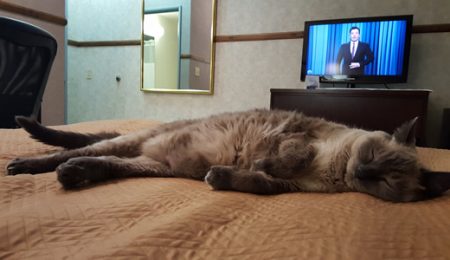 Hi Brenda
Just wanted to send a quick note to let you know Mak and I arrived safely in the US. Thank you so much for your part in setting us up to have a great trip. I'm grateful for your personal touch and the peace of mind that gave me throughout the trip. I also really appreciate the extra step you took to text me to let me know he was checked in and ready to go.
Thanks again for all your help and for provided such wonderful service!
(Mak: Auckland, NZ – US) March 2018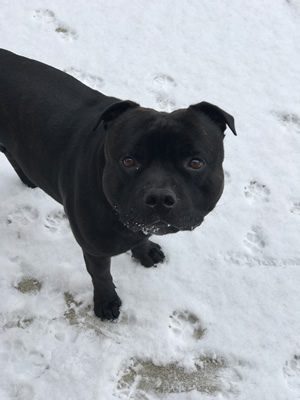 Hi Brenda
Just wanted to say thank you for all your help and for looking after our boy, you made the whole process simple and painless. Cash survived the flight pretty well and was extremely pleased to see us on the other end, (although we think that was mainly down to getting out of the crate!!!). He's settling in well over here and has enjoyed having a weekend of snow to play in but thankfully that's disappeared now.
(Cash: Auckland, NZ – Los Angeles) March 2018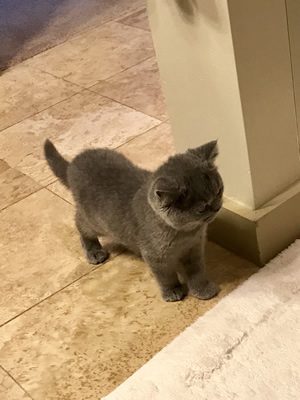 Elliott and us made it safe back to Hawai'i yesterday. Once we finally got home he seemed totally settled and happy within minutes. He was running around, smelling everything and playing with his paper-bowl-toy in no time. It hasn't been a day yet since we got home, and Elliott has already made it his kingdom… he is super snuggly and happy, always ready to play… and falls asleep in every cushy spot around the house… We are so happy to have him and are very thankful for all of your assistance in getting him home.
(Elliott: Auckland, NZ – Hawaii) March 2018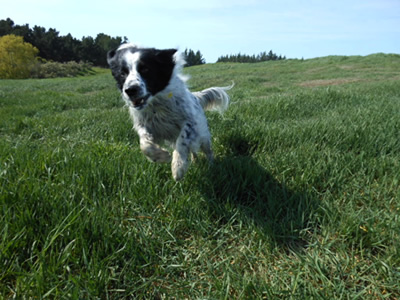 Brenda and Tony are fabulous. I can't recommend them highly enough. They assisted me in sending me Border Collie to the US. They offer the personal touch and the true interest in your pet that I was looking for. They are organized, patient, and thoughtful and definitely know their business. Thank you Brenda and Tony. You relieved me of all my stress about this journey for Wag.
Michelle Dhanak (Wag – Border Collie: Auckland, NZ – US) December 23, 2016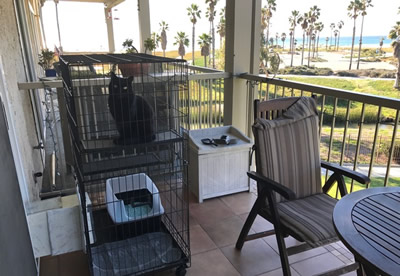 I hope this message finds you and Tony enjoying this Christmas season. Just wanted to drop a line to let you know that all had gone well in terms of picking up Zeus last week. You were right about the number of hours it takes to process the pick up on this end. Zeus is doing well, has adjusted to his new surroundings and is enjoying his new home. We're in a 3rd story condo at the beach. We have a cage set up on the balcony for him that's connected to a cat door so that he can safely enjoy the view of the birds, ducks and ocean.
Thanks again for all of your assistance with Zeus.
Best,
Andrés (Zeus: Auckland, NZ to USA)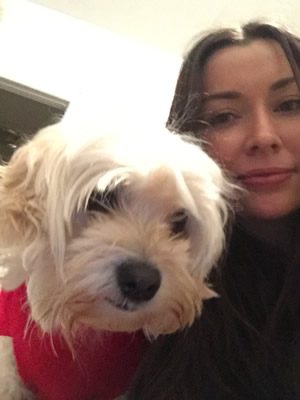 She's here!!!
Thank you!!!!!
Lilly Button (Crystal: Auckland, NZ to New York, USA)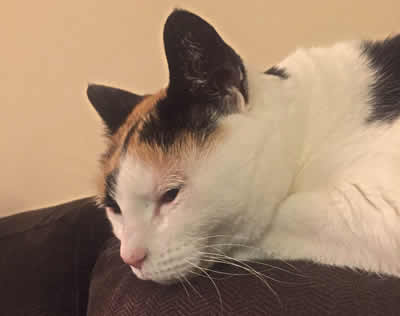 I just wanted to say a huge thank you to you for all your help throughout this process! Pebbles has arrived safely and has settled in really well.Couldn't be happier with how it went and all of your help. Thank you so much for getting it all processed in a week too, that was incredibly helpful.
Many thanks.
Holly and Jackson (Pebbles: Auckland, NZ to San Francisco, USA)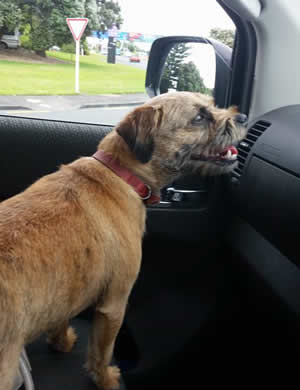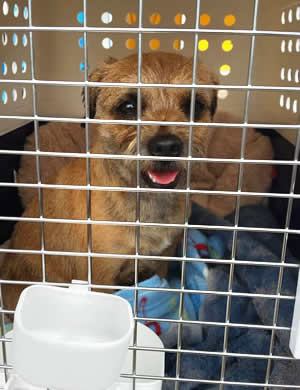 Monique and AeroPets have been amazing throughout our moving process!! Monique has always gone above and beyond in her communication, and was initially the reason we were sold on going with Aeropets. Our doggie Tesla had a smooth ride with no hiccups! During the vet check prior to her departure, even our vet was unsure of the process and paperwork, but a quick phone call to Monique and she assured us it was as simple as it sounded, and that everything was in order and she knew all the steps needed! Wow! Strongly recommend!! cheers again Monique
(Tesla – Border Terrier: Wellington, NZ to Los Angeles, USA)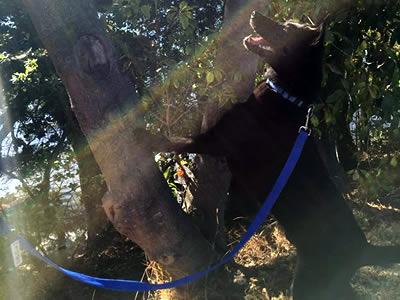 Had a great experience with aeropets Auckland. Monique went 'above and beyond' to make sure Stewart was as comfortable as possible. Hopefully we never have to transport Stu again but if we do we know who to use.
Craig (Stewart – Labrador Cross: Auckland, NZ to San Francisco, USA)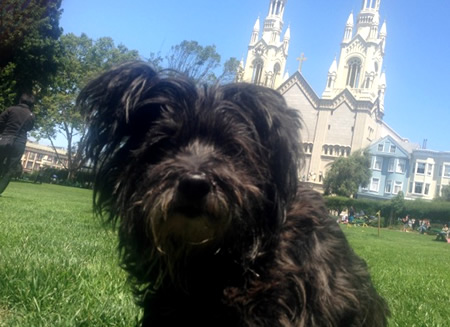 Miss Wild Animal arrived and is very well and very happy! THANK YOU very much for keeping me in the loop…the detail of the waggy tail makes all the difference..xx!!! She is one very happy, very fat little dog in San Francisco. Thank you so much Monique..xxx
Bridget (Puppygirl – Cairn Terrier: Auckland, NZ to San Francisco, USA)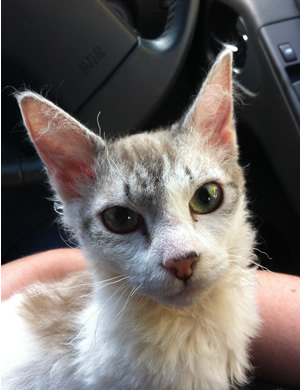 Many thanks Monique. April has emailed and Mahina is with her new family. They think that she is beautiful. Said she is purring away already. Really appreciate all your help and your patience in guiding me through this whole process.
Lorraine (Mahina – Skookum Kitten: Auckland, NZ to Hawaii, USA)
My first day driving in LA – we are exhausted but happy be together 😉
Sofia (Wei Wei – Miniature Pincher / Chihuahua: Auckland, NZ to Los Angeles, USA)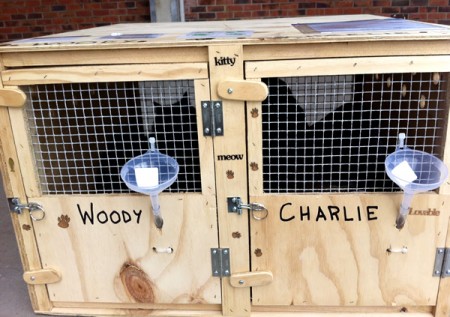 We are here – and settled in our apartment for a week. The trip went very well – without a hitch for the kitties.We were in the departure gate area with our flight to SFO and asked the Koru lounge lady an hour before we departed whether the kitties were on board, and they werent as apparently they are boarded last… about 30 mins before departure.
In arriving at the gate we went straight to the window and looked out and could see where the loading was but no sign of kitties. Boarding started and we were just about to go ask where they were, and hurtling through the ramp areas was a van and trailer and there was the kittie crate… Charlie standing watching all there was to see as usual and then we felt awesome – they had arrived, so we boarded.
I asked the flight attendant if they were onboard and she went and looked at the captains log and she came back and said – 2 live cats? yep – they're the ones and the heaters were on. We knew they would be fine from what you said. The flight was extremely smooth – no worries at all with turbulence.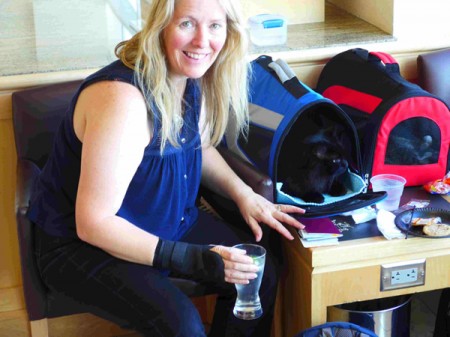 On arrival at SFO – we went through Customs and made our way to Mac Cargo… probably 40 mins and did the paperwork which was pretty easy and they let us have the kitties from warehouse. It was very noisy in the warehouse and they brought the kitties round on a pallet and they just about dived out of their cage into our arms and their little cabin bags… obviously a little stressed with the noise, but as soon as they were in the car they were fine. The cages were a bit of a mess with wet and poops but not overly so…
The paperwork for them at customs was bizarre… he didn't even read anything just signed it.. and done… literally 20 seconds.
All in all – very simple !!!
Thanks again for such a smooth transition for them… 🙂 You made it brilliantly easy and calmed the nerves for me with everything you told us.
Jules & Oliver (Woody & Charlie – Domestic Cats: Auckland, NZ to San Francisco, USA)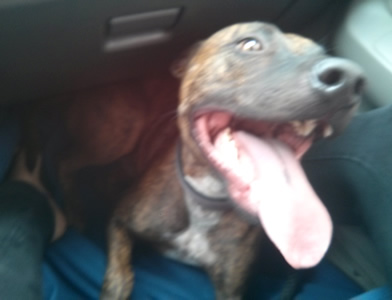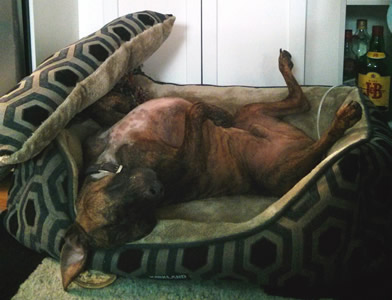 Brodie did really well I think, was shaking like a leaf when we picked him up but was so so happy once he realized why it was all happening.I've attached a photo of the look he had on his face all the way home. He was so funny – he just kept panting away looking from one of us to the other like he was making sure it was real. It was so cute. There's also a shot of him the other night in his new bed – I don't believe he's experiencing any problems settling in!
Thanks for all your help and taking care of him, you certainly made it much easier and even smoother than I had anticipated – we really appreciate it!
We are very happy customers.
Sam, Brodie + Phil
Samantha Randall (Brodie – Staffordshire Terrier: NZ to Los Angeles, USA)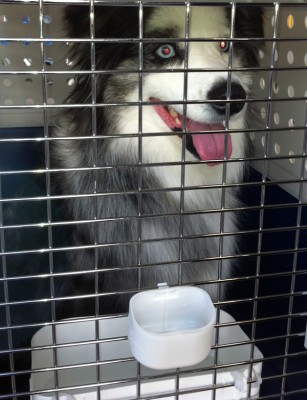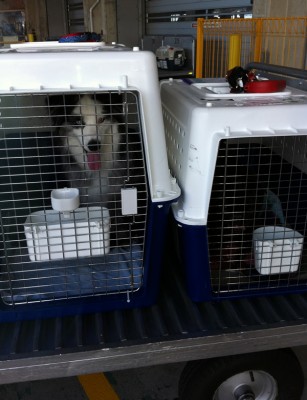 Heya, thanks for the help. kali's at home now. Thank you!
Rini Sugianto (Kali – Australian Shepherd: Auckland, NZ to Los Angeles, USA)
Ficelle has arrived save and well. Thanks again for your help.
Manu (Ficelle – Miniature Dachshund: Auckland, NZ to New York, USA)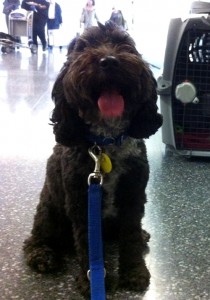 We've got Toby, he's really happy 🙂
Amy (Toby – Spoodle: Auckland, NZ to San Francisco, USA)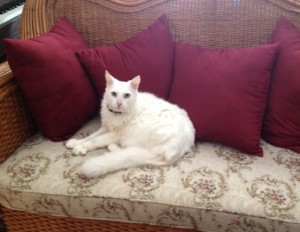 As you can see Hannibal arrived just fine. He was absolutely exhausted and a bit dirty but very, very happy to get of the crate. He can't seem to get enough of the cuddles and is so pleased to be able to sleep with each one of our girls in turn. He does have his days and nights mixed up at present and woke up at 3:30 this morning, made his presence loudly known and wanted to play.We are very grateful for the care you gave him and the extra time you spent with him. And we are very happy to have him back with us once again.
Melody Fidecaro & Family (Hannibal – Balinese Cat: Auckland, NZ to Los Angeles, USA)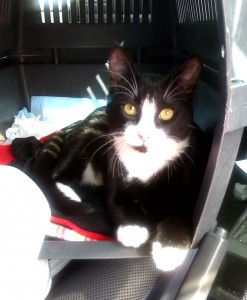 Sorry it took me so long to respond, my internet was just connected today, this is my first e-mail in over a week. Thank you so much for the wonderful e-mail about your experience with Ziggy, I love the pictures, they are so cute. I appreciate all the care you took inarranging her travel, the cage was still pretty dry thanks to all the shredded paper you put in. You were right, she didn't go to the toilet in her carrier, I think the little bit of dampness was from her water dish, but she seemed to be as comfortable as possible. Ziggy is doing great at our home, she is adjusting just fine. The Los Angeles portion of her trip turned out fine, everyone we encountered that had anything to do with Ziggy or her paperwork were so nice and helpful, it took 3hrs to collect her and put her on the next plane, they also really liked her which was very nice. Thanks for complimenting her shiny coat, in addition to her kitten biscuits I also feed her baked chicken twice a day, I can't believe it makes her coat so nice, but I can't think of what else it would be.Thank you so much Monique, I felt confident you would take good care of Ziggy, you have been very thoughtful and professional from day one, I'm very happy we used your service, I would recommend you to anyone who might need pet transport in you area. My husband thanks you also.
Lisa Horowitz (Ziggy – Domestic Cat: Auckland, NZ to Los Angeles, USA
We have recently used Aeropets services to have our British bulldog Stella sent from NZ to L.A. We are both so grateful to Aeropets and in particular Brenda who was always happy to answer our many questions and liase with others on our behalf as we had already moved to the States. Organising things from across the world can be difficult but Brenda handled everything for us with ease and gave us all the necessary paperwork as well as letting us know everything required on our end. We were obviously in good hands and are so happy we chose Aeropets to send our precious girl to us and sort out all the details for us. Having a much loved part of your family relocated over a long distance is an incredibly stressful time and It made it less so for us knowing that Brenda and Tony are obviously animal lovers who really do put the pets comfort, needs and wellbeing first. We appreciate all the little things that made this Company stand out from the rest and above all the genuine care and affection shown to Stella throughout the whole process, particularly the overnight boarding service made available to us before Stella's super early morning flight. We highly recommend Aeropets to others looking to relocate their pets overseas!
(Stella – British bulldog: Auckland, NZ to L.A., USA)
Hi Brenda,Just an email to say thanks for all your help and reassurance in getting Kaspa to Seattle. She has been here for a couple of days now, is settling back into things well.
Thanks,
Tania (Kaspa – Cat: Auckland, NZ to Seattle, USA)
Just wanted to let you know Finn arrived safe and sound. He seemed to travel really well. No accidents in his cage and of course very pleased to see us at this end. The pick-up in L.A. went very smoothly and was very easy. It took less than an hour so we were very surprised and glad to see our puppy dog again.Thank you once again, for making this stressful time a lot less stressful.
Chris Barnett (Finn – Border Collie/Labrador: Auckland, NZ to Los Angeles, USA)
Thank you so much for your help with the pets! They are both safe and sound and did well traveling. I will pass on your name and am happy to make a recommendation to any clients who may need one. Thanks again!
Kelly Davis Martin (Shih Tzu – West Highland White Terrier (Kenai) & Domestic Cat (Pusspuss): Auckland, NZ to San Francisco, USA)